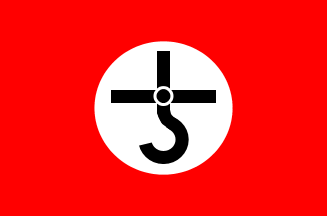 (Image via
CRWFlags.com
)
A few recent additions to the links list over there on the sidebar - like we need more. And these are just too much...more information than most humans should try to absorb.
Documents what appears to be most or all of the shows ever held at the Capitol Theatre in Passaic, NJ. Starting with a 12/16/71 show featuring Humble Pie and J. Geils, all the way to 12/31/84 - the final show on the list - Bryan Adams and Honeymoon Suite. Just a few days before that schmaltz-fest, was a much mor interesting lineup:
11/03/84
Guitar Greats, featuring; (MTV Rock Influences)
Dickey Betts/Steve Cropper/ Lita Ford/David Gilmou/Tommy Iommi/Neal Schon/Brian Setzer/Johnny Winter/Link Wray/Dave Edmunds
That, my friends was one hell of a show I'm sure. But who invited
Dickey Betts
? I mean c'mon...
Probably the most amazing and thorough collection of documentation on the history of Blondie and it's members on the entire web. It's all here, I think - detailed bios, discographies, a very comprehensive listing of all known Blondie concerts dating back to some pre-blondie projects some of you may have heard of. Then...there's the magazine archive...prepare to spend some time here - hundreds of magazines listed dating back to 1976 - and best of all, you click on the magazine title and you are reading the article. A+
Pretty much the same thing as the Blondie site listed above, this is a site packed full of way too much Blue Oyster Cult information. The tour date listings alone boggle the mind, dating back to 1967, including solo tours and whatnot. Then there's the "Songatorium" - detailed listings on the credits of who wrote what on each of B.O.C.'s albums. And there's more. Lots more. A site you could spend days reading.
Have fun...