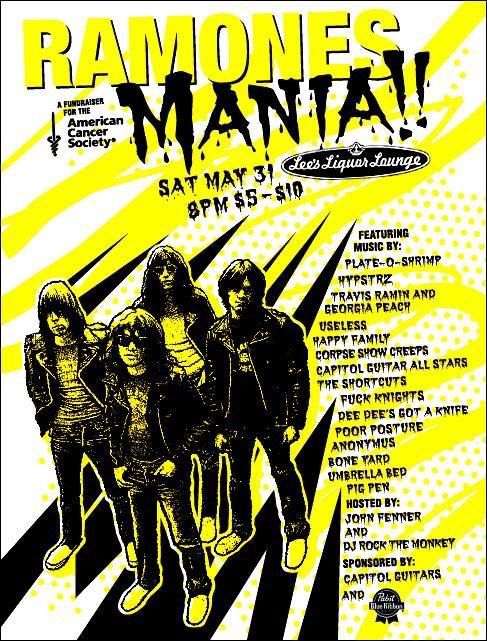 It is fitting that the day after the public memorial for
Earl Root
who was recently taken by Cancer, that the annual Ramones Mania!! Tribute Show would again take place at Lee's Liquor Lounge, to raise money for Cancer research, while celebrating the lives and music of two other Cancer victims, Joey and Johnny Ramone. This is the first year I have attended this event.
Not quite the star studded event as it's recent
NYC counterpart
, this show stands on it's own with an impressive lineup of local talent from the Minneapolis/St. Paul area.
Arrived just before 8:00pm to find the first band PIGPEN finishing their set.
After a 10 minute set change-over, (this was the order of the evening: 10 minutes set change followed by a short 10-12 minute set.) the hilarious UMBRELLA BED took the stage. A drums/bass/guitar combo backed by a 5 piece horn section covering the likes of "Needles and Pins"/"Judy is a Punk"/"Cretin Hop". I wasn't sure if it was supposed to be funny or serious but it was seriously funny. Very entertaining.
BONE YARD was scheduled to appear next but apparently cancelled. Instead we were treated to the bizarre stylings of ANONYMUS and their set including "Outsider"/"53rd & 3rd"/"Do You Remember Rock And Roll Radio", done in a psychopathic 60's style with bizarre keyboardist at the center of it all. Top it off with the large, square sunglasses these guys wore...it was strange but cool. They also kicked ass for the entire 10 minutes they were up.
Next was POOR POSTURE. A total gutter-punk, straight outta the garage thrash trio. All speed. Pretty tight. Set included "Cretin Hop"/"I Want You Around"/"She's The One"/"Do You Wanna Dance". My vote for best band of the evening. Fast, furious and loud.
Hard to follow but DEE DEE'S GOT A KNIFE managed pretty well, including "Havanna Affair"/"Commando"/"Carbona Not Glue"/"We're A Happy Family" in their brief set. Another speed based band, more metal than punk really. And the guitarist was wearing the only DICTATORS shirt in the room.
[05/16/09 - Correction:
My original comments about the FUCK KNIGHTS have been removed as I made a mistake in identifying them incorrectly as another group. I made a few dissparaging remarks that were correct in observation - but about the WRONG band. Please check out the Fuck Knights at their Myspace page located HERE, and my appologies to the band. Sorry I fucked up guys!]

Around 9:30 or so, the really drunk guy dancing by himself in the middle of the dance floor decided it would be cool if he poored the rest of his beer over his head. He was escorted out promptly and the action continued...

The SHORTCUTS were next. They seemed ill-prepared and you could see the lead singer saying she "didn't know" "Judy Is A Punk". They had to start it over. It was sloppy and unprepared, as was their take on "Commando". They seemed to be having a fun time through it all. Oh, the band is exclusively female, a four piece, and featured the same drummer as POOR POSTURE from earlier in the evening.

Here the details become a little blurred. The night was going by fast and I had a hard time taking notes as things progressed. The next band up (I think!) was THE CORPSE SHOW CREEPS, a very cool bunch of guys dressed in 50's greaser-style gear and blasting out cool Psycho-billy style Ramones covers. They could have played much longer as the crowd really seemed to enjoy them. They were followed by HAPPY FAMILY, featuring members of QUINCY PUNKS, THE COUP, and other local bands. Another mostly-metal take on some Ramones classics.

Not the final band of the evening, but the last one I saw, was USELESS. They played a quick set of straight ahead rock versions including "I Want You Around" featuring the singer from THE SHORTCUTS. It was decided to leave after this set was over and head for home. Left before seeing TRAVIS RAMIN AND GEORGIA PEACH, HYPSTRZ, and PLATE-O-SHRIMP.

The whole thing was a blast. I can see why people were saying it gets better every year. The DJ kept the 10-minute spans between bands full of more Ramones songs, covers of Ramones songs, and he even slipped in a few Dictators tunes and the original Trashmen version of "Surfin' Bird".
T-Shirts observed: New York City/New York Fuckin City/
Ramones/Blondie/New York Dolls/Dictators. This was a true celebration of the CBGB scene transported over 1,000 miles and 30 years later to the heart of Minneapolis. And when you went outside to smoke on the sidewalk (DAMN smoking ban!), just as back in the day on the Bowery, the local homeless could be seen making their way up the street on their way to one of the shelters located not far from the club where all this crazy music was being performed.
Deja vu...

So, if even for one night only, the spirit of early 1970's New York City Punk Rock lived again. Until we do it again next year.